Being a girl I have fairly limited experience with cuff links other than occasionally struggling over the men's counter in Links of London, but these would be ones that would most likely turn me off. I am amused by the gyrating girls, as I like the merge between tech and style, yet I find the images slightly offensive. Would I want my beloved to get off on these strangely writhing silhouettes? If the answer is yes I can choose from the 'Classy Poledancer', the 'girl with a boa' and the 'Girl with a Gun'.
£18.95 from Boys Stuff
Like that? Try this: OMG!!1!1!! L33T wrist cuff. WTF?? I Ultra Carbon Fiber Jewelry
By Zara Rabinowicz | February 20th, 2008
---
---
Must read posts: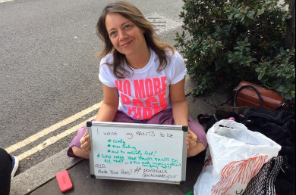 shinyshiny speaks to No More Page 3's Lucy-Ann Holmes...
---
---