For those who've had enough of being jeered at during Guitar Hero bouts, the Air Musician is the ideal way to work on their skills without needing a TV (and a mocking crowd). The model features an adjustable wrist strap and a one touch button selection for the song of your choice; next step is strumming heaven. With each strum being a different chord it'll probably be a bit tricky to master but once you have it down you could start putting in some knee slides and behind the head player action for really exciting the crowds/girls/parents. It has five in built songs, Deep Purple's Black Night and Smoke on Water, Aerosmith's Walk this Way, Lenny Kravitz Are You Gonna Go My way and 20th Century Boy by T-Rex. Hmm. Add a lot more tunes and maybe a patent casing and maybe Guitar Hero will start to worry, but till then this is a poor contender for the air guitar title.
£18.95 from Any Toys
Like that? Try this: Hands-Free Sheet Music Library and Page Turner I Hot off the virtual press – the latest tech headlines
By Zara Rabinowicz | February 21st, 2008
---
---
Must read posts: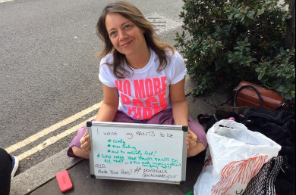 shinyshiny speaks to No More Page 3's Lucy-Ann Holmes...
---
---