When I first saw this device, I though, hey, good idea, wonder if it will ever happen. Then I realised that this wasn't just a concept device, but an actual real product and became slightly flabbergasted. Though my smoking days are behind me, I have enough friends who still partake for me to find this a truly unique gift for one of them, and oh so cool at the same time. But how does it work?, I hear you clamour. Well actually the premise is fairly simple, in a 'why didn't I think of that kinda way'. It's actually a stainless steel parabolic mirror, which focuses the suns energy into a focal point which reaches up to a 1000 degrees. You place your cigarette there, and voila, fire!
See after the jump for a video of it in action!
£6.99 from Gyroscope
Like that? Try this: Multifunctional solar device is NES, GBA and GBC emulator, media player and more I Geek Chic of the Week: Solar powered dress
By Zara Rabinowicz | February 4th, 2008
---
---
Must read posts: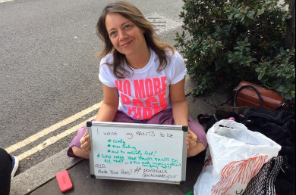 shinyshiny speaks to No More Page 3's Lucy-Ann Holmes...
---
---