I get digital photoframes. I just don't want one. Until now… Typical then, that this is currently just a concept (incidentally, if you're not big on concepts, I suggest you drop off the internet and come back in about three weeks time when people start announcing products again).
This frame looks like a polaroid picture, which is timely, given the recent announcement that Polaroid were going to discontinue their classic cameras. You can name the picture and change it on the white space below, whiteboard-at-school style. But best of all is that there's a setting for having the photo fade into existance over the course of a minute, just like a real Polaroid. Now that's cool.
[via
Gizmodo
]
Like that? Read this: Polaroid media back-up|Polaroid TVs
By Susi Weaser | February 27th, 2008
---
---
Must read posts: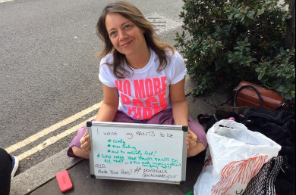 shinyshiny speaks to No More Page 3's Lucy-Ann Holmes...
---
---