What do you get the person who has everything? Well how about a limited edition 24 carat gold Blackberry? Nothing says I love you, like the flash of gold, and diamonds can even be included if you prefer. The finish is handcrafted from rose Gold and looks extremely blingy. There is no price as yet for this baby, but if you'd even consider it I'm guessing that's not an issue. I don't think I'd be that impressed were I presented with this vulgar monstrosity, but I'd be pretty happy eBaying it later.
Available from Goldstriker
Like that? Read this: Gold python BlackBerry case. Mmmmm. *wretch* I Vaja luxury for your BlackBerry I One Minute Video Review: Blackberry Pearl
By Zara Rabinowicz | February 1st, 2008
---
---
Must read posts: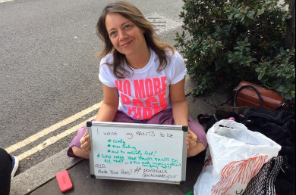 shinyshiny speaks to No More Page 3's Lucy-Ann Holmes...
---
---