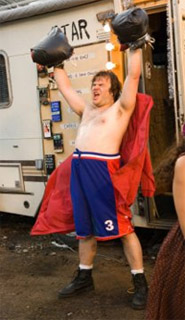 A pair of desperate video shop employees remaking classic films when the stock accidentally gets wiped: if this sounds like fun to you, you're probably going to be among those going to see Be Kind Rewind in its first weekend.
Suppose you feel inspired by it? Or maybe you think it needs remaking itself? Well, with the help of our top five movie-themed gadgets, you might just be able to make your own pathetic hilarious, zero-budget effort to upload to YouTube…
This IWOOT favourite is bound to be your first port of call. After all, you'll need a multi-purpose camera for all those action shots, and it needs to be pretty much bomb proof if you're going to trust your friends with it…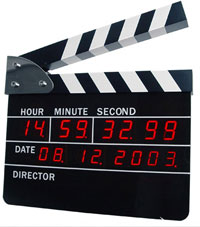 2. Clapperboard Alarm Clock
A step up from a clapper board made of bits of cardboard and scrawled on in pencil / chalk, at least this has a use when you're finished with your movie career. Not that we're suggesting you won't win Oscars for your efforts, of course. But just in case your production is so perfect that you could never think of following it up, you can responsible recycle this as the alarm clock it was originally intended to be. Happy, erm, clapping.
This has a dual purpose. If the star of your film is being hounded by the press, this cluster of teeny paparazzi can dazzle them with flashing lights; then you can stage a première! It's particularly handy if your star is a giant, since each determined photographer is just 10cm tall.

Preparation is everything when you're shooting a movie, and if you're going to venture in front of the camera, then you need to look your best (or, if it's a horror film, worst). This bulb-dotted mirror will reveal every last imperfection, so be prepared to risk seven years bad luck when you smash it in a fit of rage for making the odd spot look like Vesuvius.
Suppose you need an animated segment for your film, or a way to keep the kids quiet while you are communing with your muse (that sounds wrong, doesn't it?)? Well, this Bratz Movie Making Set comes with pose-able characters and a stop motion camera. Perfect for budding Henry Selicks.
If all of this seems like too much effort, and you actually have a budget of about £3,000, then why not give it up and appear in a much bigger budget movie as an extra?
By Staff Writer | February 22nd, 2008
---
---
---
---