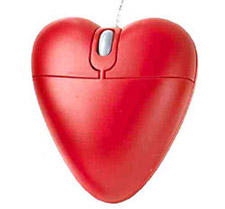 I keep coming across all this nauseatingly couply stuff and since I am part of a nauseating couple i feel somehow duty bound to spread it all around. Please don't hate me. I'm a good person, even if I DO like Macs.
This heart-shaped mouse… erm. Well, that's it. No bells, whistles or other exciting elements to it. It's just heart-shaped. And a mouse. If you like to be a little less predictable there are goldfish and ladybird versions too. Isn't it nice to see Valentine's geek love available to all? Ahhhh. *wretch*. £25.
Heart Mouse @ V&A Shop [via Tech Digest]
Like that? Read this: Top Five Valentine's Day Presents For You Lucky Loved-Up Sods | Zune shares the love this Valentine's Day – though not with us just yet | Apple relents with a new pink iPod Nano. Thank. God.
By Staff Writer | January 24th, 2008
---
---
---
---