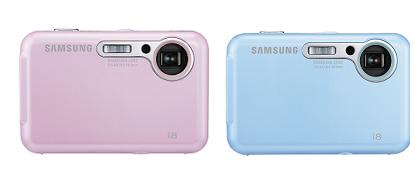 Am I the only person who goes doolally over cameras? Perhaps it's because I had the pleasure of seeing this little baby in person last night so I'm feeling particularly friendly towards it. That and the fact that it comes in a variety of super sweet colours, from baby pink and blue (pictured above) to the more adult silver and black varieties. As well as the sweet bubble like styling, the i8 contains 8.1 megapixels and a 2.7 inch touchscreen LCD screen, which doubles as an MP3 player. There's an headphone adapter just next to the SD card slot, and I have to say that this is one device that really works as a combination. The camera has 195MB of internal memory but you can always top that up with a large SD card. It would be nice to have an optical zoom on this camera, but at least the Intelligent Face Recognition Technology goes some way to make up for this oversight.
There's also an inbuilt World Tour Guide to provide info on 2,600 regions so should you be snapping away in Buenos Aires you can look up the local lingo and hot spots. Neccessary? Nope, but a nice touch all the same.
£149 from Samsung in February
Like that? Read this: Review: Samsung NV3 digital camera I The Samsung i70 camera named European Design Camera
By Zara Rabinowicz | January 17th, 2008
---
---
Must read posts: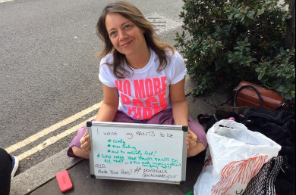 shinyshiny speaks to No More Page 3's Lucy-Ann Holmes...
---
---