Unwittingly, posting this photo on the interweb has caused
the uproar
the likes of which has not been seen since Blu-ray said they had officially beaten HD-DVD. Is it photoshopped? Is it not? Are they employing weighted contact lens technology to make them stay straight? Will we ever know the truth? Aaaaaaaaaaaahhhhhhhhhhhhhhhhhhhhhhhhhh.
Sadly, there are no stockist details on where you can get your very own pair of Hello Kitty contact lenses. Perhaps in the alternate reality where a small cartoon cat is worshipped, iconified and plastered everywhere. Or Japan.
[via
Hello Kitty Hell
]
Like that? Read this: Hello Kitty vibrator|Hello Kitty scales
By Susi Weaser | January 3rd, 2008
---
---
Must read posts: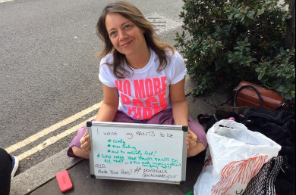 shinyshiny speaks to No More Page 3's Lucy-Ann Holmes...
---
---