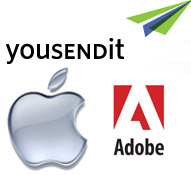 It might not be the showiest kid on the block, but I love the simplicity of YouSendIt. A service that lets you send bulkloads of photos, sans compression, can only ever be a good thing. Now if you use Adobe CS3 on your Mac – and I know many a designer and design wannabe that does – you can install a plugin to let you do just that at the click of a button.
It's really not much more exciting than that, but the most practical, useful things rarely have bells and whistles; yet they're still worth writing about. This plug in is free, as is the related one for Aperture, and can be downloaded from the YouSendIt website (link below).
For more news from Macworld Expo 2008, check out our Gadget Shows category.
By Staff Writer | January 15th, 2008
---
---
---
---