Becky Schaefer specialises in dropping modern twists into traditional cross-stitch scenes, in this case the classic pastoral. It takes a few seconds to register the geeky touch, despite the fact that Lara Croft appears packing her traditional steel and short shorts.
Although Lara doesn't number among our favourite female video game characters, it's great to see yet another take on geek chic. I thought at first that this one was a bit more unusal than most, but judging by the SpriteStitch video game cross-stitch blog, there's a lot more of this out there than I had realised.
[via
Crafty Crafty
]
Like that? Read this: Lara Croft on your mobile in Tomb Raider: Legend | Video: Kat talks to Karima Adebibe, model for Lara Croft in Tomb Raider franchise | 'Tom Clancy's Rainbow Six: Vegas' Video Game Facial Mapping
By Staff Writer | January 18th, 2008
---
---
Must read posts: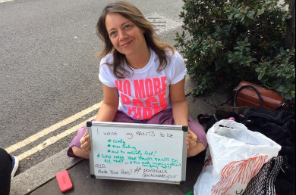 shinyshiny speaks to No More Page 3's Lucy-Ann Holmes...
---
---