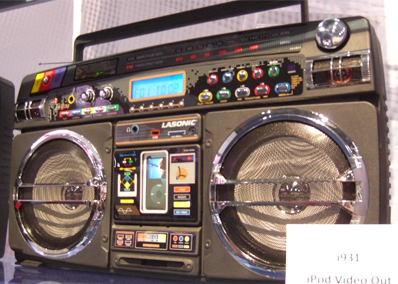 There's a lot of competition between us Shinies here in Vegas for who can find the coolest gadget on the show floor. I think I can now fairly declare myself the winner with the iPod Boombox,
Pimping out your wheels with massive base bins and LCD displays is great for sharing your love of music (and video, and colourful lights), but how on earth are you meant to be demonstrating your musical altruism to everyone around you when you're just walking to the cornershop to buy some tea bags? I know it's a problem we all have to deal with on a daily basis.
Not any more though; with the Lasonic iPod Boom Box sat squarely on your feminine shoulders, you can blast out tunes direct from your iPod with a set of 2 x 12 watt speakers. The system is even powered by batteries – how old school is that?
If you don't want to use your iPod you can also plug in any USB thumbdrive, MMC or SD card, fire up the FM/AM radio, or just plug a mic in for some freestylin' street rapping.
CES 2008 Special
Read all our coverage from the show in our CES 2008 category
By Katherine Hannaford | January 9th, 2008
---
---
---
---