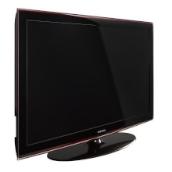 Samsung are all about the TVs this year, with three interesting models being displayed here in Las Vegas. The first is the 3D HD plasma screen, which they're touting as this first available to the consumer market. Apparently, they're banking on it being a big hit with gamers, as well as those who like to wear ridiculous glasses in the comfort of their own home. You can see for yourself how ridiculous I look in them after the jump.
The second TV is one with an ethernet port, which allows you to connect to the internet. However, before you go and get all excited, Samsung have decided that the only stuff you actually need from the internet is one RSS feed, the weather and stock prices. The RSS feed isn't one you can choose yourself, as it'll be USA Today in the US, and reputedly, Reuters in the UK. You can check out a video of it after the jump.
For more CES news, click here.
For more CES news, click here.
By Susi Weaser | January 8th, 2008
---
---
---
---