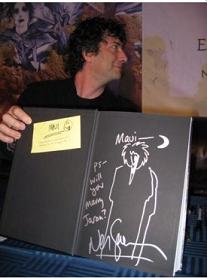 Marriage proposals. Are you an advocate of the dinner and champagne method? The weekend away story? Or the lesser known walk through the park plan? Or, do you look for maximum Adorable and Yet Still Hugely Geeky points that come with something totally original, such as the
'Ask Neil Gaiman to write "Will You Marry Jason?" in front of your girlfriend as a dedication at a book signing'?
Such was the plan of Jason, a blogger from the Philippines, for his proposal. His girlfriend and him are massive fans of the author, and queued up for hours to be one of the first 100 people at the book signing. Neil himself was of course in on it, and if you want to read all about the Extreme Prep that went into it, check out Jason's explanation of the proposal here. Alternatively, click over the jump for a video of the proposal.
Chances are, if you're choosing to read this blog, it's a proposal which will bring geek tears to your eyes.
[via
Boing Boing
]
By Susi Weaser | December 14th, 2007
---
---
---
---