Giftee: Staying friends with ex-boyfriends. How grown-up. How mature. How sorted. Of course your gift now has to convey "I know you well, so have been able to get you something you'll really like" as well as "But I haven't got you anything you'd like *too* much, for fear of looking like I'm still into you" as well as "I also haven't got you anything that will make you appear too attractive to the opposite sex, because as much as I don't want to date you anymore, I also don't want anyone else to". It's a complicated buying decision.
Best site: Commonwealth Stacks Conversation EditionsA goldmine of interesting and unique design pieces, the store came about as a collaboration between people who wanted to use cultural influences to produce pieces that would become talking points or even precious souvenirs. Yes, even the t-shirts. Especially the t-shirts.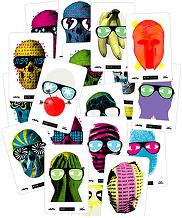 Best product: Whilst the t-shirts are awesome, we've already established you won't be buying anything that makes the ex look attractive. So, try out the Stacks x Marc Jacobs x Arkitip Playing Cards, which come with 54 different images. And at $9.50, you can get a set for all your ex-boyfriends.
Alternatively: You can't go wrong with TopMan. They've got loads of Christmas gift appropriate stuff, and it won't break the bank.
By Susi Weaser | December 7th, 2007
---
---
---
---