Segways never appealed to me; frankly whenever I see anyone pootling down the street in one – and, for good reason, it's not often – I want to place obstacles in their way. But how different if you could FLY in one! This isn't actually a Segway at all, but the VertiPod, which takes the concept of standing on a platform and steering, but makes you float five to 15 feet above the ground and achieve a top speed of 40mph.
You steer by leaning in the right direction, and it definitely looks a lot more manageable than a Bond-in-the-80s jet pack. Imagine the damage you can inflict on unwary pedestrians in this! It means digging deep in your pockets, though, as the self-assembly kit – which is hopefully more robust than an IKEA-style allen key arrangement – will be $10,000 (£5,000). The petrol or ethanol engine is powered with a pullstring, lawnmower style. Availability is as yet unknown, but we'll keep you posted.
[via
Gizmodo
]
Like that? Read this: Ferrari limited edition Segway… oy. | Handsfree Transporter: the edgified Segway! | Forget the jetpack: a Levitating Photo Frame
By Staff Writer | November 28th, 2007
---
---
Must read posts: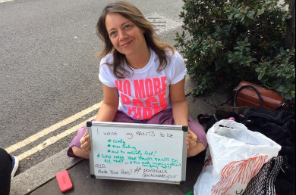 shinyshiny speaks to No More Page 3's Lucy-Ann Holmes...
---
---