We all know that winter tends to be dark as well as rainy, but while traditional umbrellas have the "rainy" bit sorted, they're not so hot with the "dark", are they? This one aims to give you light as well as shelter, using what looks like little LEDs under the fabric to create that unearthly glow. I say "looks like" because here's the bit you won't like – it's still a concept at the moment. If and when it ever comes into production, though, it'll surely make those long walks home from the pub at night a little safer at least.
[via
Gizmo Diva
]
Like that? Read this: Water pistol umbrella | Double umbrella | Hands free umbrella
By Staff Writer | November 27th, 2007
---
---
Must read posts: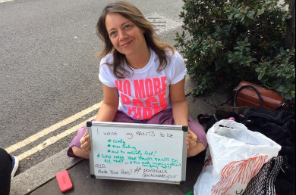 shinyshiny speaks to No More Page 3's Lucy-Ann Holmes...
---
---