There's nothing like a good drive to clear the cobwebs out of your head, as the open road at night is a wonderful experience, just speeding along, enjoying the power of your motor. Well now you can enjoy it in a whole other sense, with the vibrating car chair providing simulation to your more, erm, sensitive areas. I'm not sure this would be to good for your road safety, but it certainly would make those traffic jams a lot more pleasurable.
There are 4 massage points in the chair, and similar to in car seat warmers they uh, heat up slightly. It brings to mind the phrase, 'Is it hot in here. No, that's just me..' Enjoy.
£59.99 from Love Honey
Like that? Read this: iJoy Massage Chair I Voice-activated Robo Massage Chair I M:ssage – the mobile phone that gives you a massage
By Zara Rabinowicz | November 1st, 2007
---
---
Must read posts: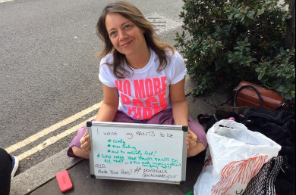 shinyshiny speaks to No More Page 3's Lucy-Ann Holmes...
---
---