I am on a one woman mission to get Halloween recognised as a national holiday – dressing up, free sweets, carving up fruit – what's not to love? In my quest, I have to gather evidence of all the ways that Halloween will benefit our lives, and Extreme Pumpkins has helped immensely. Any activity which can be proceeded with the word 'extreme' is surely life-enriching.
This site is dedicated to the sport of pumpkin carving, and not only features a gallery of top 'extreme pumpkins' but goes into phenomenal detail about what you need, how to do it and design strategy. My favourite section is the 'Candy trap' bit, which has sketches of how to hide or make kids work for the sweets. The site owner had an ulterior motive though. In his won words "I also wanted some way to discourage a recent trend in my neighborhood. It seems like 15-20 year olds have decided that they deserve some free candy. I don't agree. I think that they deserve a pillowcase full of hose-water." He's bringing candy back to the kids, peeps. Respec'.
Check it out here.
By Susi Weaser | October 11th, 2007
---
---
Must read posts: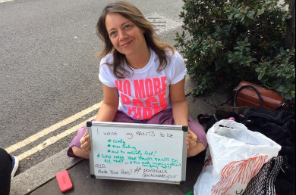 shinyshiny speaks to No More Page 3's Lucy-Ann Holmes...
---
---