Full HD televisions are generally 40″ plus monster screens, but Sharp's new range of Aquos LCDs include a 22″ model. There are also 26″ and 32″ models and all have 1920 x 1080 resolution capable of cleanly rendering full 1080p video over dual HDMI ports.
The contrast ratio on the 32″ model is highest at 2,000:1, with the 22″ model having a ratio of 1,200:1. There's a plethora of PC analogue and digital connectors to boot, so these are clearly designed to be the hub of a home entertainment system, much like LG's recently released monitors. You can even tuck a keyboard away under the stand. Prices go from around £770 (¥180,000) for the smallest model to about £1,000 (¥240,000) for the largest. Not cheap, but as we all know from this hilarious video captured at IFA, Aquos is simply the best. Oh yes.
Sharp Aquos [via Tech.co.uk]
Like that? Read this: JVC 2007: Full High definition Everio camcorder | CES 2007: Video evidence of Sharp's 108″ LCD telly | IFA 07: Kat talks to Sharp about their 108″ LCD TV, the world's largest
By Staff Writer | October 29th, 2007
---
---
Must read posts: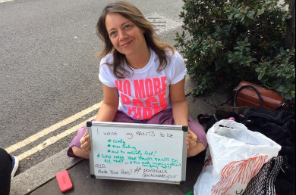 shinyshiny speaks to No More Page 3's Lucy-Ann Holmes...
---
---