The Hug Shirt was a concept that, due to Internet popularity, looks set to shortly become a – ridiculously expensive – reality. CuteCircuit has taken on the challenge to produce the shirt which is padded with removable sensors that essentially make it a Bluetooth accessory for Java-enabled mobiles. You wear the shirt, hug, and the intensity and position of your hug are sent via Bluetooth to your phone. This is running the complementary Hug Me software, and sends a virtual hug mirroring the real one to your loved one by text. If you're not wearing the shirt but the need to hug strikes you, you can use the software to send one anyway.
Seriously, what happened to "*hug*"? Or better still, calling someone and speaking to them? In fact, get your ass on some form of transport and go give them the damn hug. I'm guessing that with a few exceptions THAT won't cost you around $300. US-only to begin with.
Hug Shirt by CuteCircuit/p>
[via
talk2myshirt
]
By Staff Writer | October 22nd, 2007
---
---
Must read posts: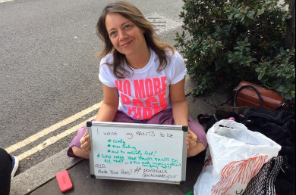 shinyshiny speaks to No More Page 3's Lucy-Ann Holmes...
---
---