It's early in the month yet, but these sneaky pretend holidays have a habit of sneaking up on us. On the whole we in the UK don't do such a brilliant job of celebrating All Hallows Eve as our US friends do, but here's your chance to put that right.
The Ghost Finder Camera means no more time spent 'shopping ghostly images into your party pics – they'll be superimposed on when you snap the picture. I'm sure some gullible* type somewhere that'll fall for it, but you might want to hide the branding on the camera unless your friends are really drunk or stupid.
*a word which has now been removed from the dictionary.
[via
Nerd Approved
]
Like that? Read this: Easy Chair Ghoul for Halloween – a scare in a chair | Meet ghosts on your mobile
By Staff Writer | October 5th, 2007
---
---
Must read posts: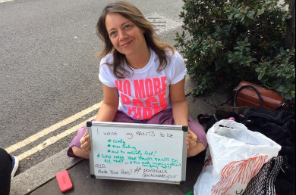 shinyshiny speaks to No More Page 3's Lucy-Ann Holmes...
---
---