I'll be honest here, I'm really not much of a cook, but if I were even going to consider all that washing up on regular basis this gorgeous swirly cupcake would be on my to buy list. It looks good enough to eat, and that makes it enough of an incentive to dust off that Nigella book and pull the oven gloves on. If all else fails, it will still look decorative (if unused) in your kitchen.
$23.95 from Bright and Bold
Like that? Read this: The geek cake Transforms with Optimus Prime | The ultimate gamer… wedding cake | All I want for Christmas is… 47 cake slicers singing
By Zara Rabinowicz | October 22nd, 2007
---
---
Must read posts: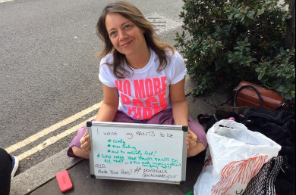 shinyshiny speaks to No More Page 3's Lucy-Ann Holmes...
---
---