We've seen all sorts of high tech toothbrushes, but this one can truly be called unique as it deals with one of the most annoying aspects of brushing your teeth that no other toothbrush has even thought about viz. the rinsing. Either you go through an unacceptable amount of disposable cups or you have to continually rewash the same skunky cup or you try to get water in your hand and end up with a mess. With the Brush and Rinse toothbrush, washing the toothbrush redirects the water to your lips so that you can rinse your mouth and the toothbrush in the same gesture. The toothbrush will retail for $3.00 when it hits the stores, but you can get an original prototype now — for $1,750.00. That would buy a whole lot of root canals (well, 2 1/2) but it would make you the hit of the British Dental Association. That's all for now. Keep your teeth clean. [Camille]
Brush & Rinse [via Oh Gizmo!]
Like that? Read this: Oral-B's Triumph with SmartGuide – the toothbrush that gives you feedback as you brush | Tickle your tonsils with the Sonicare Flexcare Toothbrush from Philips | Toothbrush/vibrator. Obviously.
By Camille Dumas | August 8th, 2007
---
---
Must read posts: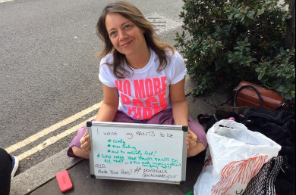 shinyshiny speaks to No More Page 3's Lucy-Ann Holmes...
---
---