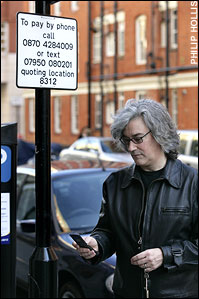 In an attempt to stop thieves causing £100,000 worth of damage to boring old cash parking meters every year, Westminster City Council is planning to rip out 2,000 of the traditional boxes, replacing them with text-driven payment systems instead. This paves the way for all the old style meters to be removed from Central London by next year.
Pros: You don't have to carry around fistfuls of shrapnel now that parking has reached a phenomenal average of £4/hr, and you get the option to receive a text alert and top up (wasn't that once called feeding the meter?). Cons: If you don't have a mobile or a credit / debit card, you're screwed going to have to use council car parks where you can find them. A great way to ease parking pains? A further incentive to use public transport? Have you seen a system like this where you live? Does it work? Please, have your say.
Last time we asked you about Safari for Windows. You were dubious about it, and took the opportunity to complain about iTunes on Windows too. In my opinion, understandably.
Trashionista
,
Hippyshopper
,
Corrie Blog
,
Catwalk Queen
,
Kiss and Makeup
,
The Bag Lady
,
Shoewawa
and
Bridalwave
too!]
[Image Source: The Telegraph]
By Staff Writer | July 4th, 2007
---
---
---
---