The world's latest smart rabbit is here for your pleasure, and I'm not talking about the buzzy naughty kind, but rather the WiFi rabbit that streams your music and looks a cross between a real life Pokemon and Bugs Bunny on acid. Now packed with even more goodness, there are now limited edition Nabaztags issued, which are designed by Andre, creator of 'love Graffiti', and have a 'tout va bien' ear', but all the same tech wizardry inside. Only 300 of these are being produced so you better snap them up fast for something that may be worth a few bob in a couple of years. You can buy NabaZtamps to work in tandem with your rabbit, which attach to surfaces and have interactive capabilities, via their inbuilt RFID tags. The rabbits all feature voice activation, wireless networking,and the new smell technology, which means they actively sense other wireless devices and connect to them.
$190 from Nabaztag
Like that? Read this: Nabaztag Bunnies I A Bunny for Christmas
By Zara Rabinowicz | July 16th, 2007
---
---
Must read posts: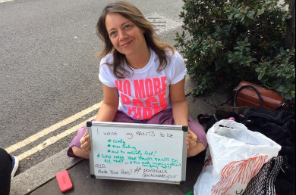 shinyshiny speaks to No More Page 3's Lucy-Ann Holmes...
---
---