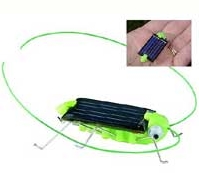 It's not yet August and already we've given up hope of seeing the sun this year. We're not alone. The solar jumping cricket is also desperately awaiting the sun's appearance so he can soak up a bit of power, enough to waggle his feelers and do a little dance. Heck, he'd even make cricket noises and jump around on your desk in glee, just for a bit of sunlight.
Perhaps your office doesn't have a good view outside, and you can't tell unaided whether the sun's popped out for five minutes. You don't want to miss that! Perch the little cricket on the window ledge, and he'll act as an alarm, chirping and dancing to tell you the sun's come out. And if you're lucky enough to have a nice, sunny desk, you can both anticipate the sun side by side, and party together when it *finally* comes out
Product Page, £12.00
Like that? Read this: Solar Robot | Solar Charger
By Sara Kalmus | July 12th, 2007
---
---
Must read posts: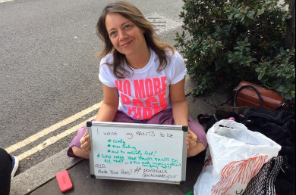 shinyshiny speaks to No More Page 3's Lucy-Ann Holmes...
---
---