Remote control cars have just turned up the heat a notch by creating the fist ever vehicle that can actually climb vertically. Yes, you heard right; vertically. No longer do pesky corners and annoying doors have to get in the way of your motor madness, now these obstacles can be driven up and over, adding a frisson of mission Impossible style acrobatics to your driving. The Humvee styled vehicle uses advanced technology to challenge the laws of physics, with its internal motor creating an air pocket with a downward force. When the car reaches a 45 degree angle the internal fans kick in , drawing air under the car and creating a suction like effect that allows it to grip to the walls. I wonder if this technology would be able to make the move to high street autos? Then we'd have Men in Black style antics on the high street, and parking would be instantly easier.. Drive bys will never be the same again.
£79.99 from Argos
Like that? Read this: Zero Gravity massage chairs I Remote control racing cars I RC Turbo
By Zara Rabinowicz | July 24th, 2007
---
---
Must read posts: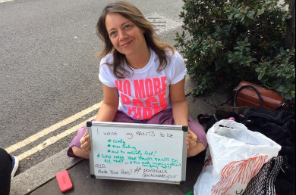 shinyshiny speaks to No More Page 3's Lucy-Ann Holmes...
---
---