Remember how cool you used to think that guy with the boombox on his shoulder looked? Damn cool, if you were me, although admittedly he might have looked marginally less so when crying with the ache in his neck and shoulders later that evening. Well, no need for excruciating pain in order to share your well chosen playlists with the world with this awesome bag from Journeys.
This bag doesn't just look like a funky mock-up, it's got built-in speakers which you can attach to your MP3 player, iPod, MP3 Phone or CD player (and so on and on). Fantastic! Just pop your player inside, plug it into the mini-jack, and strut to your own sounds. And all for a measly $30.
Related Posts: Memorex iMove iPod boombox | Mama Said Knock You Out trolley speakers
By Orla Doherty | July 9th, 2007
---
---
Must read posts: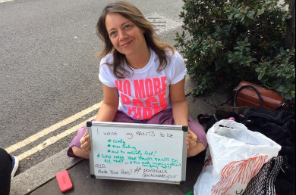 shinyshiny speaks to No More Page 3's Lucy-Ann Holmes...
---
---