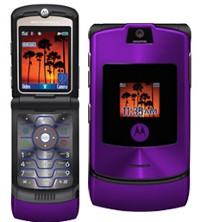 It seems like the Razr has been around forever with its natty design, easy interface and spanking colour combinations. Previously issued in everything from gorgeous gold to bubblegum pink, and a 3G compatible device, the metallic purple version, is well, just because really. Motorola say this colour is being issued for Mother's day, but we say that purple is this season's black. They've also added Bluetooth and quad band coverage, but it's essentially the same. So are you lusting after this mobile, or waiting for them to bring out a different style/colour way? Or have you *gasp* made the move to Nokia or Samsung? Spill here..
Last week we asked your thoughts on the Nokia N95.
By and large the feedback stated that the Nokia was overpriced, ugly and heavy, and there was a complaint about it's lack of pinkness ( Could be in the pipeline for next year, you never know). On the plus side, one reader was very enthusiastic about the 5megapixel camera, but overall a resounding nay.
Trashionista
,
Hippyshopper
,
Corrie Blog
,
Catwalk Queen
,
Kiss and Makeup
,
The Bag Lady
,
Shoewawa
and
Bridalwave
too!]
By Zara Rabinowicz | May 3rd, 2007
---
---
---
---