The Financial Times joined the bandwagon of those who think us only children are overly independent wingnuts. But if a parent needs to have two separate screens because their multiple offspring can't even share a screen while watching the same DVD in the car, who's the wingnut now? A question best left unexplored, so suffice it to say that the Disney Dual Screen Mobile DVD Player comes to the rescue. With two 7-inch screens that strap onto the back of the car seat headrests, headphones, speakers, a car power adapter, and a remote it's the ultimate kiddie cartrip silencer. Formats supported include DVD videos, picture/audio CDs, DVD+R and DVD+RW. The most intriguing feature to me is the subscription-based 'TV guardian' option that filters out language deemed inappropriate. Who does the deeming? I don't know, but I'd be surprised if any DVDs, but Disney ones actually had audio once the TV guardian goes to work.
$180 available in May from Target
Related stories: TeenTech Portable DVD Player | Car Gadgets
By Kimberly | May 7th, 2007
---
---
Must read posts: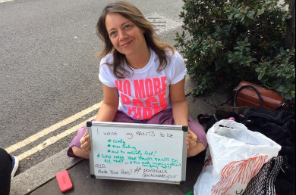 shinyshiny speaks to No More Page 3's Lucy-Ann Holmes...
---
---