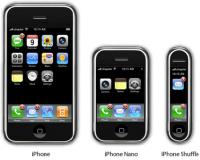 Rumour has it that the next iPhone is on the way, and it will have two LCD screens – a regular one on the front, and a touch-screen on the back! The primary reason for the back screen, as explained in Apple's recent patent application, is that front screens are commonly too small to be easily controlled by our grubby little mitts (although Apple politely use the word 'finger', of course). Apparently, 'display smudging' is a common problem on phone-size screens, a fact I can confirm from my use of the LG Chocolate phone.
The two-screen phone that Apple are plotting to solve this dilemma will aim to simplify the use of feature-rich smartphones. They're currently thought too complicated for the mass market who, at the end of the day, just want to phone a friend and play a tune.
The back screen will be for input, that is, swiping your finger around, while the front screen will display a delicate little smudge-free cursor which will move around according to where your finger is on the back screen, allowing you to see exactly what you're about to select. There will be buttons appearing and disappearing as you need them, and they might even be transparent, so you won't need to interrupt the video you're watching to answer a text. I can't wait to see how these turn out!
For more iPhone news, check out iPhonic, our geeky older brother blog.
[via
i4u
]
Related Posts: The iPhone | Touch Screen Chocolate Phone
By Staff Writer | May 16th, 2007
---
---
---
---