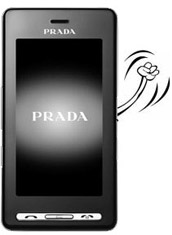 We've had a great tip-off from one of our readers who just so happens to be a retailer for one of the muchly-coveted LG Prada mobile phones, and whoa, have we got some juicy gossip for your next trip to the office watercooler! It seems LG are really bending over backwards to please the Italian fashion house, even going to such extremes as sending an 11-page document to retailers detailing exactly how the mobile should be displayed. Not only this, but the retailers must send LG photos of the interior and exterior of the shop the phone will be sold in. It just goes to show how retailers are willing to bend over backwards in order to be granted the privilege of stocking the exclusive mobile – although we reckon it's probably pretty common for designer badged gadgets to come with their own list of rules and regs. Read on below for all 17 guidelines retailers must adhere to, and why you should always call the ear-candy 'LG Prada phone', and not 'Prada phone by LG'. Snigger snigger. Their strict demands haven't dampened my desire for one, however.
1. Only the handset images supplied by Prada can be used. The screen shots must not be changed from the screen shots on the images provided.
2. The background to the handset on all collateral must be either black (preferably), white, or 60-70% black (grey). If a blue background is being used by the retailer as part of their overall store design, blue may be used as a backdrop but Prada need to agree this on an individual basis.
3. Dummy handsets must be displayed on a black ( preferably), white, or 60-70% black ( grey) background. If the standard colour in the retailer behind the dummy display is blue then blue can be used but Prada need to agree this on an individual basis.
4. The specification of the phone can be written next to the phone as can the price point. The price point must not be bigger than 10% in ratio to the size of the Prada phone it is displayed next to unless agreed with Prada on an individual basis.
5. Retailers can use the standard format of their publications, provided they use images provided by Prada without any changes. The handset must be displayed on either a black or white background in these publications. Rules of logo usage and font size still apply in the publications.
6. When the handset is displayed on the retailers website, the same rules as the retailer's publications apply.
7. The phone is always called the 'Prada phone by LG'. This is always written on the same line.
8. The Prada logo is never used on its own. It can only be used as part of 'Prada phone by LG'. When it is used the LG logo must also be used.
9. When retailers write the manufacturers name in a standard font they can write 'Prada phone by LG' in that font / colour.
10. The Prada advert imagery can only be run in agreement with Prada. No images from the advert or the advert itself can be used at all without prior consent and sign off from Prada.
11. No logo, type or lettering should touch the handset images unless agreed with Prada on an individual basis.
12. Prada and LG logos must only be used in either black or white as supplied by Prada and LG.
13. No above the line activity should occur on the 'Prada phone by LG' without prior agreement from Prada and LG
14. Above the line activity includes all press, radio, TV, direct mail, and any out of store branding.
15. These are guidelines to help the partner produce Prada branding that will meet the Prada standards for this product. All material featuring the Prada handset and Prada brand is still required to be signed off by Prada in advance.
16. The Prada phone by LG is only to be sold by LG authorised retailers, networks and/or distributors to either end-users and/or other authorised retailers/ dealers who have been approved by LG as complying with its selection criteria.
17. The Prada phone by LG is not to be sold for any white label, affinity or fulfillment sales unless such sales have been approved by LG as complying with LG's selection criteria.
Related: The inside story on the LG Prada mobile | LG Prada phone stockists | LG Prada review
By Katherine Hannaford | April 10th, 2007
---
---
---
---