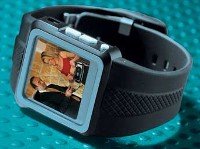 I'll admit from the outset I love films far too much to squint at them on a 1.5" screen, but it is undeniable fact that the most necessary piece of 60s spy kit gear is the video watch.
The Home Theater (sic!) Watch is a Mission Impossible piece of wrist chic, allowing you to store up to 2GB of video. That should comfortably fit a movie-length clip or several shorter ones. You can also use it as an MP3 (and MP1, MP2 and WMA) player as well as viewing JPEGs. Software is included to convert all manner of file types including AVI and MPEG to the Home Theater Watch's format.
Available from Gadget Universe for $149.99, surely a bargain price for turning you into one of Charlie's Angels.
Related posts: Sony Ericsson Bluetooth Watch|Relativity Watch|Sand & Time Watch
Into fitness and health gadgets? Check out our new site, Connected Health