Crystal USB stick pendant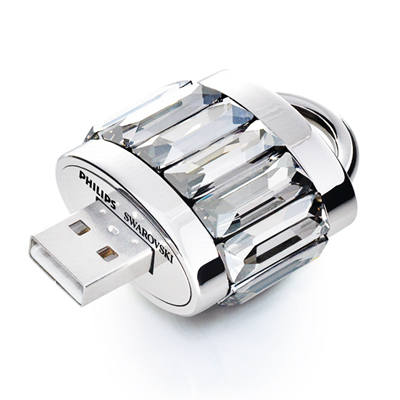 It's been a while since anyone's discovered a new USB stick. Ooh, at least three hours, I'd say. Time for another one, I think, or we might all get withdrawal symptoms.
Here to fit the bill is a nice little memory stick from Phillips and Swarovski, with, surprise surprise, crystals on it! It stores 1GB and sparkles away looking very pretty dangling around one's neck. I can imagine by the year 3000 or so, people comparing antique USB stick collections, a bit like they might do thimbles now. They'll display them in little wooden display cases, or perhaps silicon ones, to match the subject matter, and this will be the pride of the collection. Sparkle away!
[via GadgetCandy]
Related Posts: Lexar USB Pendant I Memory Stick Earrings
Came straight to this page? Visit www.ShinyShiny.tv for all the latest news.
TrackBack
TrackBack URL for this entry:
http://shinymedia.headshift.com/cgi-bin/mtshiny/mt-tb.cgi/25284
Listed below are links to weblogs that reference Crystal USB stick pendant:
Comments
Post a comment