The ARCO mirror PC TV is a mirror, a PC and a TV, and there's not much more to say, except that by eliminating the tiresome trek from the lounge sofa to the computer workstation, ARCO is set to make us just that little bit fatter and lazier.
Due to be launched in the Korean market, ARCO uses ad-notam mirror image technology to deliver high quality video on a mirror surface. We don't yet know what spec Lapelle have put into this monster, but it seems set to contain our viewing and browsing needs in one handy box. Now, when they make one that's also a fast food outlet, we'll know we're in trouble.
Product Page [via Gizmodo]
Related Posts: Konka Mirror TV | VisionMirror with TV | Phillips MiraVision
By Staff Writer | April 19th, 2007
---
---
Must read posts: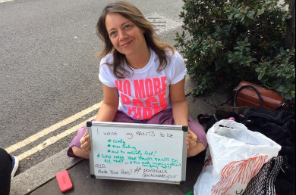 shinyshiny speaks to No More Page 3's Lucy-Ann Holmes...
---
---