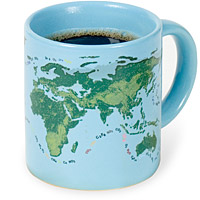 If you're a huge fan of Al Gore's An Inconvenient Truth, or are just an obsessive mug collector, this Global Warming Mug from Firebox is either really cool, or really scary. Decorated with a seemingly harmless map of the world, when this frighteningly paranoid educational mug is filled with hot fluid it reacts to the heat, and depicts the affects that global warming will supposedly have on the planet Earth. You can watch in horror as Florida melts away, and the UK is practically reduced down to the size of Hawaii. This may be a bit heavy for your first cup of tea in the morning, but it's still interesting, none the less.
£6.95 from Firebox
Related Stories: USB Mug Warmer | Whirlpool Self-Stirring Mug
By Cate | March 1st, 2007
---
---
Must read posts: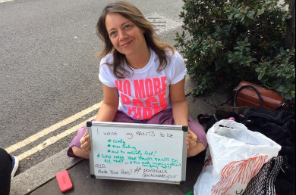 shinyshiny speaks to No More Page 3's Lucy-Ann Holmes...
---
---