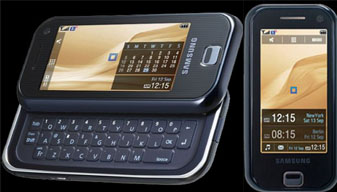 Longterm readers should remember that I'm an avid fan of the MDA Vario Smartphone, and up until today I didn't think I'd ever be tempted to stray away from a Windows-based mobile. Yep, not even the bloomin' iPhone tempts me. However, after seeing the specs on this new Samsung F700 Smartphone, I'm dead impressed, which is no easy feat when it comes to Smartphones and Katherine Hannaford. Carrying a 5-megapixel camera (FIVE!!), 7.2Mbps HSDPA, Bluetooth, and an interface designed by Adobe (purveyors of that fine Photoshop program we're all familiar with), this F700 is being touted by anti-Jobs fanboys as being an iPhone killer. As you can see, there's a full qwerty keyboard, and the touchscreen measures 2.78 inches. No word yet on when it's dropping in the UK, but expect to hear shortly, as I'll no doubt be pressing F5 on their website obsessively until then. (via Gizmodo).
Related: Samsung NV11 | Samsung SCH-W559 | Samsung Jitterbug Phone at CES 2007
By Katherine Hannaford | February 9th, 2007
---
---
Must read posts: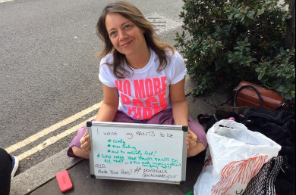 shinyshiny speaks to No More Page 3's Lucy-Ann Holmes...
---
---