Trying to run a bath and do anything else at the same time can get slightly worrying, especially if you're in the top floor flat. However, the Starfish Bath Alert from Gadget Storm can help you worry less, and not flood your entire building. Using the suction cups, simply stick the Starfish Bath Alert to the side of your tub, and it will beep and alert you once the water level has reached its sensors. It also serves as a digital thermometer and can be particularly useful if running the bath for children, or for those who are sensitive to higher temperatures.
£9.95 from Gadget Storm
Related Stories: Tele Dog Cellphone Alert|Wi-Fi Bunny
By Cate | February 1st, 2007
---
---
Must read posts: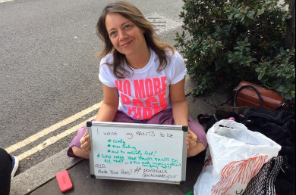 shinyshiny speaks to No More Page 3's Lucy-Ann Holmes...
---
---