So, you're all busy preparing for Lent, aren't you? Deciding what to give up, working out how to be a better, more forgiving person and all that. What you need, though, is a bit of friendly guidance, and the COE is here to give it to you. By text message. Well, how else do you expect them to spread the message of peace, love and understanding?
The Love Life, Live Lent campaign is designed to "lighten up Lent" ('You mean it wasn't light already?' I hear you cry). There's a website which encourages visitors to share "Lenten" jokes. There's a Christian Comedy Club. And there's a text message service, will will send you daily Lent messages, with suggestions on how to spread goodwill and make people laugh. So, Lent: it's officially "fun". Apparently.
Love Life Live Lent website | [via Textually.org]
Related: Deleted text message reader | Tell your Sky+ to record via text message | Tom Baker becomes voice of text
By Staff Writer | February 20th, 2007
---
---
Must read posts: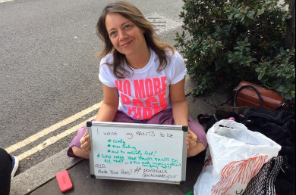 shinyshiny speaks to No More Page 3's Lucy-Ann Holmes...
---
---