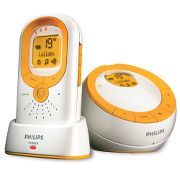 Let me tell you something. Most features of modern baby listeners are pretty useless. You might think that you'll be a better parent if you can watch your baby sleep, listen to her heartbeat, monitor his temperature within a tenth of a degree, but you won't. All you need is to hear your baby when he cries, so you can go to him.
You may think that this is a minimal feature of baby monitors, but I've heard stories of mothers hurtling up the stairs to rescue their bundle of joy, only to find her sleeping peacefully in her cot. Who was doing the screaming heard on the baby monitor then? Next door's new arrival, whose monitor is on the same frequency! At least when it picks up a local radio station or taxicab company, you know that's not baby and can save yourself the trouble of a trip up the stairs.
The solution: Hammacher Schlemmer's new 'Superior' baby monitor uses digital enhanced cordless telecommunication (DECT) that automatically selects an unused frequency band from 60 different channels for optimal clarity and security, so you can monitor your baby without signal interference. It also plays lullabies and all manner of unnecessary niceties, which you may or may not find useful, but at least you'll be able to hear her, not the local taxi rank, when she cries.
Product Page via Crave
Related Stories: Video Baby Monitor I Baby Cry Analyzer I Baby Tag
By Staff Writer | February 26th, 2007
---
---
---
---