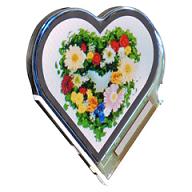 Kissing Love Tester from ASOS.com – the theory with this piece of plastic is that you and your partner kiss while gripping the heart, and the electricity created will set off lights, charms, and buzzers, depending on the levels of energy. Best news is that it's only £6, so isn't too much, in case there happens to be zilch electricity between the two of you.
2.) Emoticon Jewellery from Sweet Tooth Designs – available in a range of styles and emoticons, these unisex pieces of jewellery are the perfect way to show your love for your fellow geek. Prices start at around $35, but I'm going to hold off until they make a 'LOLWTF?!' one, myself.
3.) Medion SIM 2060 Pink Diamanté Laptop – one perhaps aimed at the girls; most of the ladies in our Shiny offices fell in love with the bedazzled laptop, and believe it or not, the specs aren't bad either! At £999, best not get one for this month's bed-partner.
4.) Heart Radio Cushtie from RedSave – not just a squishy pillow, this red and pink monstrosity features a built-in radio, so not only can you cuddle it and pretend it's your partner, but you can pretend it's Jamie Theakston as well…
5.) Rubber Duck Vibrator from Firebox – admittedly this is probably a pressie you'd buy yourself for Valentine's Day, it's a vibrating pink rubber duckie. No need to say much more than that, really.
By Katherine Hannaford | January 29th, 2007
---
---
---
---