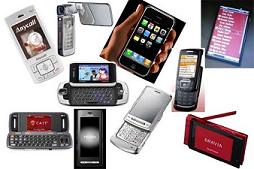 Everyone's been talking about it the last few weeks – the blogs haven't buzzed this much since the Lonelygirl15 scandal; the chippies are wrapping pieces of cod in newspapers' sycophantic gushings about it, heck, even your own Aunt has asked you how integrated the OS X will be in it. Yep, we're talking 'bout the iPhone. However, in the shadow of Steve Jobs's phallic phone, many worthy mobiles have been cast aside – until now. Take a look under the jump for Shiny Shiny's list of the Top 10 Mobile Phones Of 2007 We Can't Wait For. And, err, admittedly the iPhone is on the list, not just to sate the Apple fans' thirst for More, More, More Pictures of The Great Shiny Object, but because it's actually a pretty great phone once you ignore all the buzz. Read on, fellow mobile geeks!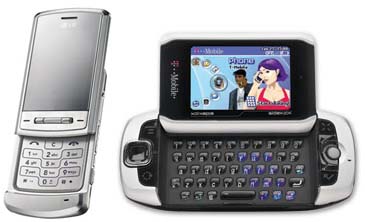 1.) LG Shine.

A favourite amongst us Shiny Shiny girls, and not for the obvious reasons, this Black Label mobile (our beloved Chocolate is also part of this range) features a 2 megapixel camera, Bluetooth, MP3 playback, 1GB of onboard storage space, and is also able to set user-recorded video as the phone's wallpaper. Pure bliss on a stick. Available in the UK 7th February, expect our full review shortly.

2.) Sidekick 3. Already available in the States, this baby descended on Blighty back in December, but sold out within days, since then it has been announced T-Mobile, the only UK stockist, had discontinued it. However we have hope another UK stockist will pick it up, due to its success in the States. Featuring all the goodies we're used to in Paris and Nicole's phone du jour, it's got email, a 1.3 megapixel camera, MP3 player, miniSD slot, and T Mobile's Web'n Walk feature. Hopefully reissued again sometime in 2007, expect our full review shortly.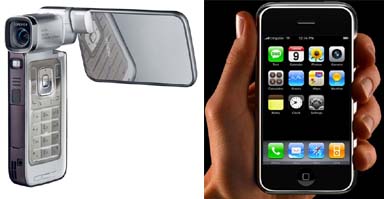 3.) Nokia N93i. The hugely-antipicated update to the N93, it possesses MPEG-4 VGA video capture at up to 30 frames per second, a 3.2 megapixel camera with Carl Zeiss optics, 3x optical zoom, 1 GB miniSD card (hurrah!), Wi-Fi, and an MP3 player. Thankfully, it's been on a diet, and is much slimmer than its predecessor. Available in 2007's first quarter.
4.) Apple iPhone. You knew it was going to be included in the top 5, but are you surprised it's not at number 1? As you no doubt know, it will have a 3.5 inch diagonal touch screen, 2 megapixel camera, Wi-Fi, and run Apple's Mac OS X system. There'll be two versions available, a 4GB, and 8GB, handy for all those tunes you're likely to store. Available in UK Winter 2007, if that.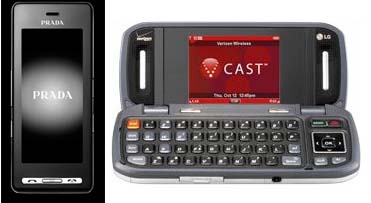 5.) LG enV. Another phone which has been available in the US since November, we're including this on our list due to its smartphone capabilities – it's got a full qwerty keyboard, 2 megapixel camera, integrated GPS, wireless synchronisation for emailing purposes, and of course, Bluetooth. Check out our video of it at CES. No word on UK availability, but we guess around Spring 2007.
6.) LG KE850 Prada. The recently announced mobile from LG, made in conjunction with the fashion house Prada, will pip the iPhone to the post to being the world's first completely touch screen mobile. It's got a 3 inch display, with a 2 megapixel camera, LED flash, Bluetooth, and a player supporting MPEG 4. Due February 2007 in the UK.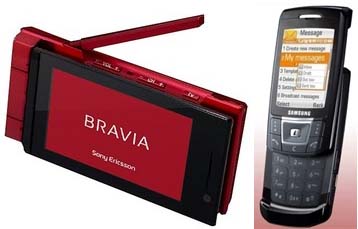 7.) Sony Ericsson SO903iTV Bravia. Based on Bravia technology (you remember those telly ads with the bouncing balls, right?) the SO903iTV boasts a 3 inch screen, with a slide function for horizontal viewing. It's got a 2 megapixel camera, and microSD card slot for storing those all-important pics of your friend downing three Sambuca shots in a row. Available in Japan in June, let's hope it launches here sometime this year.

8.) Samsung Ultra Edition 12.9. Formerly known as the D900, this new model is only 12.9 mm thin, with a 3 megapixel camera, 2.1 inch screen, quad-band, and not only that, claims it's the world's slimmest slider phone with a 3 megapixel camera. Due out sometime late 2007.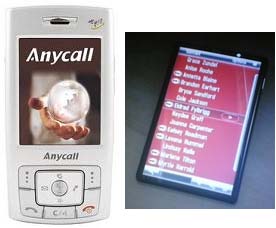 9.) Google's Switch. Ok, so it hasn't been announced yet, but with shady photos cropping up all over blogs, and stories about it being made by Samsung, yet branded as Google, we will hold our breath for a 2007 launch UK-side. It's rumoured to have GPS with Google Maps based navigation features, a contact application using Gmail, Google Talk, and traditional messaging, and absolutely no internal memory, as everything will be served up over the network. No word on availability, as it's still just a rumour, d'oh!
10.) Samsung SCH-W559. It's the first touchscreen mobile to use Immersion's VibeTonz, a technology which provides tactile feedback for touchscreen interactions. This is good news, as there isn't a traditional keypad on the mobile, it's an LCD display, and with the VibeTonz feature, it ensures your touches will feel real, like actual keys. Not only that, it's got handwriting recognition, Bluetooth, a 1.3 megapixel camera, and audio and video playback. No word on availability, but it's sure to launch in 2007.
By Katherine Hannaford | January 22nd, 2007
---
---
---
---