How I adore these! Behold the lovely Pacman belt buckle and Pacman neck tie from the Ex-Boyfriend Collection. The belt buckle has a standard post closure, is 4 1/2″ long x 2 1/2″ wide, and fits most belts with removable buckles. The skinny white Pacman tie positively reeks of geekiness, but it has some serious charm. Plus, it could make a wonderful Valentine's Day gift for the nerdy man in your life. Nothing says true love like the gift of Pacman.
Both are $20 from Ex-Boyfriend
Related Stories: Robot Messenger Bags from Ex-Boyfriend
By Cate | January 26th, 2007
---
---
Must read posts: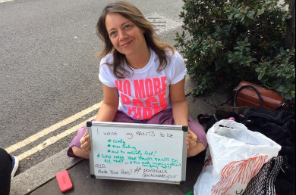 shinyshiny speaks to No More Page 3's Lucy-Ann Holmes...
---
---