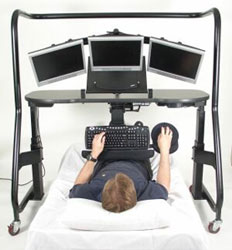 Finally! It's the product the tech world has been waiting for: a desk that lets you blog, work and play without ever having to leave your bed – fabulous! This is the Ergopod, and while it's ideal for those with special physical needs which prevent them sitting at a desk all day, it's a pretty sweet invention for those of us who are just plain lazy, too. There's a work surface which you can either tuck a recliner under or place over your bed, a motorized monitor tilt platform to make sure you can still see, no matter how supine you get, and motorized legs that will lift and lower it as required. Prices depend on how many bells and whistles you want to attach to it, but are around the $2000 mark.
Product Page | [via Boing Boing]
Related: Geek-a-cycle lets you exercise at your desk | Treadmill workstation | iPod bed
By Staff Writer | January 23rd, 2007
---
---
Must read posts: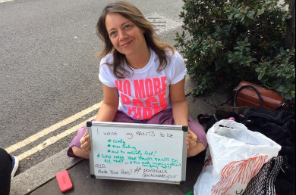 shinyshiny speaks to No More Page 3's Lucy-Ann Holmes...
---
---