If you want your precious iPod to don something more stylish than an iPod Sock, look no further. AB Sutton's Custom Leather iPod Cases are the perfect way to dress up your iPod. These fabulous cases are so customized, you can choose everything from the type of leather, the thread, and which fabric will be used in the lining.
There are cases available for the iPod Video, iPod Nano and the iPod Mini; with a choice of three different styles of cases: the Custom Slip, the Custom Book, or the Custom Pocketbook. These cases are not for the fickle minded, as there are over 40 different colors to choose from, including a choice of a star burst, monogrammed, or solid design. Good luck trying to design just one!
$98 – $148 from AB Sutton
Related Stories: Leather iPod Love Case, Covertec Leather iPod Covers
By Cate | January 16th, 2007
---
---
Must read posts: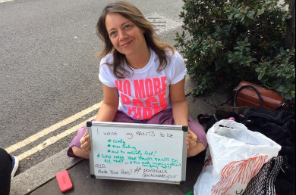 shinyshiny speaks to No More Page 3's Lucy-Ann Holmes...
---
---