Last week I asked you about Smores makers. Are they the noughties fondue set or yet another single-skilled food appliance destined for the dusty cupboard. Nay, you said, send them off to that cupboard. And if you still don't know what a Smores is, the picture was a clue. We don't live in the USA either although it is a splendid place to visit. Especially Disneyland.
This week I'd like you to take a look at the USB Rocket Cannon. Powered by your computer you can point, aim and fire three foam cannons up to 10 feet. Yes, it's infantile but isn't it an awful lot of fun? Aim it at the boss when in the office or at the cat when at home, just don't be surprised if you get your just desserts. So do you want one? Yay or Nay and why?
Trashionista
,
Hippyshopper
,
Corrie Blog
,
Catwalk Queen
,
Kiss and Makeup
,
The Bag Lady
,
Shoewawa
and
Bridalwave
too!]
By Camilla Chafer | November 1st, 2006
---
---
Must read posts: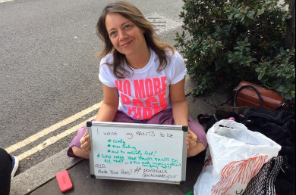 shinyshiny speaks to No More Page 3's Lucy-Ann Holmes...
---
---