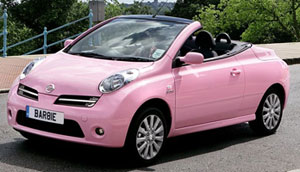 If Barbie was a real woman (and I hope I'm not shattering any one's illusions here by revealing that she's not), as well as being 7 foot tall with an 8 inch waist, she'd also be driving around in a pink Nissan Micra, apparently. Well, that's what the good people at Nissan would have us believe, anyway, and just in case we doubted them, they've gone ahead and created this homage to the Barbie girl herself – complete with 'BAR81E' numberplate.
The car is said to be the most expensive Nissan available in the UK: it's up for sale in Chorley Nissan's Preston showroom for £ £36,250, complete with numberplate. Don't worry, though, this isn't just an exercise in bad taste – both the dealership itself and www.newreg.com, who provided the plate, have pledged to donate a percentage of the profit to Breakthrough Breast Cancer when it sells. Want to be a Barbie girl, in a Barbie world car? Well, now's your chance.
Related:Pink Car Kit| Pink Gear Knobs & Gaiters| Barbie's Hot Pink VW Beetle
By Staff Writer | November 22nd, 2006
---
---
Must read posts: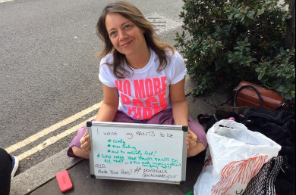 shinyshiny speaks to No More Page 3's Lucy-Ann Holmes...
---
---