Speakers are generally more to be heard then seen, but if I came across Woofers out in the Urban Wild, they'd definitely inspire a second look; and possibly an evening of restless dreams involving Cerebus and the Baha Men.
The speakers have a polyester body, a disturbing lack of head, and, if not superior sound, at least audio that "…sounds remarkably well, compared to your everyday speakersystem." The perfect addition to any surrealists sound system.
Product Page -via [Apartment Therapy NYC]
More speakers on Shiny Shiny
By Star C. Foster | October 24th, 2006
---
---
Must read posts: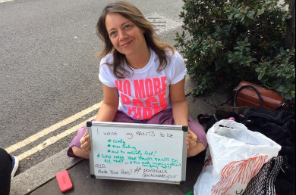 shinyshiny speaks to No More Page 3's Lucy-Ann Holmes...
---
---