Last week, I asked you about the bubble spa bath mat and the survey said Nay.
Girly pink tools. There are several opinions on this one. Firstly, it's an inferior product turned out in pink to appeal to 'silly girlies.' Secondly, it's kitsch, a bit daft and you wouldn't be seen dead with them. Then there's the at least no male will nick it so you'll always find your tools option, no where is that shelf that needs putting up? and finally the idea, can't a tool just be a tool, does it have to be pink to appeal to women?
Bearing all this in mind, if a tool is well made and pink, would you buy it? Yay or Nay and why?
(If you like this one, it's the Little Pink Tool Kit made by The Tool Kit People. It has 10 tools including hammer, spirit level, pliers and screwdriver. Guaranteed forever, it costs $79.95 and a portion of each sale will go to fight breast cancer.)
By Camilla Chafer | October 18th, 2006
---
---
Must read posts: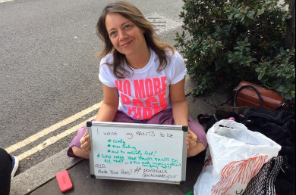 shinyshiny speaks to No More Page 3's Lucy-Ann Holmes...
---
---